Having worked with many large-scale brands including Toms Shoes, Mars, and Powell's Books, we've found several common signs that your business is ready to start the conversation on how you manage your product data, and how this can affect multiple systems within your technology stack.
Sign #1: Multiple channels, not enough time.
If you have a business that relies on selling your products, often times the same products through multiple channels, you will most likely have come up against having to duplicate your efforts in managing all these channels individually. This takes your time away from other activities like sales and marketing efforts.
Growing merchants spend a considerable time and/or require an enormous staff to launch a new product catalog or update an existing one. It's challenging, often expensive and makes it tough to scale as a business. This can lead to your business falling behind the competition.
Sign #2: Inconsistency leads to low quality product data.
What most businesses face inconsistent product data formats between their suppliers. This leads to low quality product data. Here are typical examples of product data sources:
Content Delivery Network (CDN)
These sources produce a wide range of product data types, leading to a messy retrieval and management process. This initiates the need to hire more staff and stand up more error-prone and inefficient workflows that negatively impact the entire business (e.g., cost, time, customer sentiment, poor data quality, etc.).
Sign #3: Your systems architecture is fragmented.
If you have manual processes in place, the chances for error prone data and inefficient workflows greatly increase.
By not having a PIM system in place you are missing one of the most important cogs in your business. You're denying your organization the opportunity and benefits of maintaining and sharing product data all with a single tool. Introducing a PIM enables you to create a centralized hub of product data that flows throughout all of your integral business systems, keep all your product data in sync between all your sales channels and your back end systems.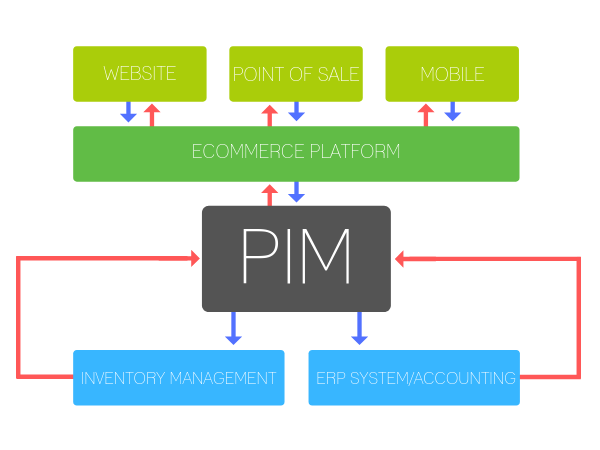 A PIM not only centralizes and sanitizes product data, it provides an Integration Platform as a Service (iPaaS) enabling a two-way sync across all business applications. To learn more, check out Sales Layer.