There is so much that I could say about my experience at the BigCommerce Partner Summit last week in Austin, Texas. In fact, this is my second article about the event. More on that in a moment. This time, I thought it would be appropriate to focus on BigCommerce CEO, Brent Bellm's keynote because he is such a remarkable man.
Support for Ukraine
Brent's keynote followed a very moving presentation about what BigCommerce and the partner community was doing to support Ukraine during its time of need. His introductory remarks were a reflection of what had just taken place. I felt compelled to give that topic its own space in a separate article.

Brent Bellm speaks about Ukraine
The World's Best OpenSaaS Platform
Brent reiterated his long standing message that BigCommerce was the "world's best OpenSaaS platform." Before we get into all of that, you might be wondering exactly what that means.
Perhaps you are familiar with the term "open-source." That is a platform or system based on code that is freely supported by a community of contributors to the platform. The software itself doesn't cost you anything, but you need to find some place to host it either on-premise or in the cloud. It offers flexibility, enabling you to modify and extend the platform with your own customizations or by using 3rd party modules or plug-ins. Some known examples include WordPress, Drupal, DNN and countless others.
Then there is the term "SaaS", which is an acronym for "Software as a Service." This means that the software is accessible through a web browser, hosted in the cloud and available 24x7x365. It typically comes complete with support, software updates and usually with some type of annual or monthly subscription payment plan. SaaS removes the hassle of dealing with the infrastructure, hardware and software updates. Examples include HubSpot, Sales Layer, Acumatica, Salesforce etc., etc.
So what exactly is "OpenSaaS?" OpenSaaS is software as a service based on open-source code. That means you have the ultimate flexibility of an open system with the virtually hassle-free SaaS subscription model. In the case of BigCommerce, the software isn't free and it's not really open-source, but it is very flexible and customizable through APIs and 3rd party apps. And, it definitely has always been a SaaS product since day one.
Architecture and Ecosystem
Brent refers to BigCommerce as a "best of breed" platform along with the best of breed technology partners and agencies. This is what makes BigCommerce so appealing to Fortuitas and our clients. Fortuitas' role is not to build a solution from scratch, but to take what is out of the box and extend, integrate and modify what's available with APIs and SDKs.
What is different about BigCommerce from the other major eCommerce solutions is the architecture. It provides each area of functionality as a micro-service, rather than than being a monolithic beast. It therefore allows 3rd parties to offer "the world's best capabilities for payments, shipping and tax, checkout, marketing automation, Point of Sale" etc. etc. without disrupting the core of the system.
The idea is to create an ecosystem that brings the best partners and integrations so agencies can choose what is best for them and their customers.
Brent's definition of "Commerce as a Service" is the ability to work with a tech partner and agency to market and bundle eCommerce with their offering. That is exactly what Fortuitas does for our clients. However, we call it Saas Plus.
Disruptive Innovation
Brent talked about how BigCommerce was intentionally a form of "disruptive Innovation"--technology that started at the low, underserved part of the market (SMBs), built enough scale, added enough functionality and moved up market. He also referred to that as being "purposefully disruptive".
As a result, BigCommerce now has customers in every major sector. This includes Health & Beauty, CPG, Apparel, electronics, home and garden, food and beverage, sports, automotive and industrial.
Many major brands running BigCommerce stores today include Avery Dennison, Ben & Jerry's, GE, Fujistu, Crest--the list goes on and on.
BigCommerce has clearly grown up and is now an enterprise grade eCommerce platform. In fact, 2/3 of all transactions on the platform are through mid market and enterprise merchants.
70% of BigCommerce's revenue today is from enterprise merchants, and Brent attributes this to BigCommerce's disruptive tech journey. However, BigCommerce refuses to abandon the low end customers (SMBs). There are still plenty of smaller merchants running their stores on the platform, and that will continue to be the case for the future.
Multi-Storefront and Multi-Location Inventory
This year BigCommerce released multi-storefront to offer merchants the ability to create and manage multiple, unique storefronts from a single account within their BigCommerce dashboard. This also includes multi-location inventory capabilities.
Multi-storefront took 4 years of planning and re-coding every part of their product. Ted Baker and Nokia launched on it during beta--and it worked!!!
The night before the summit, I had the opportunity to chat with Brent about mult-storefront at Lavaca Street Bar. He is one of the most approachable guys you will ever meet, especially considering that as the CEO of a publicly traded company with a global reach, he is a very busy man! Yet, he always finds a way to make time for everyone.
I wanted to make sure he knew that Fortuitas was about to embark on our first BigCommerce multi-storefront engagement before the end of the year. He asked me to personally send him an email about it once it kicks off. Again, how many CEOs at his level would extend themselves like this? Very few.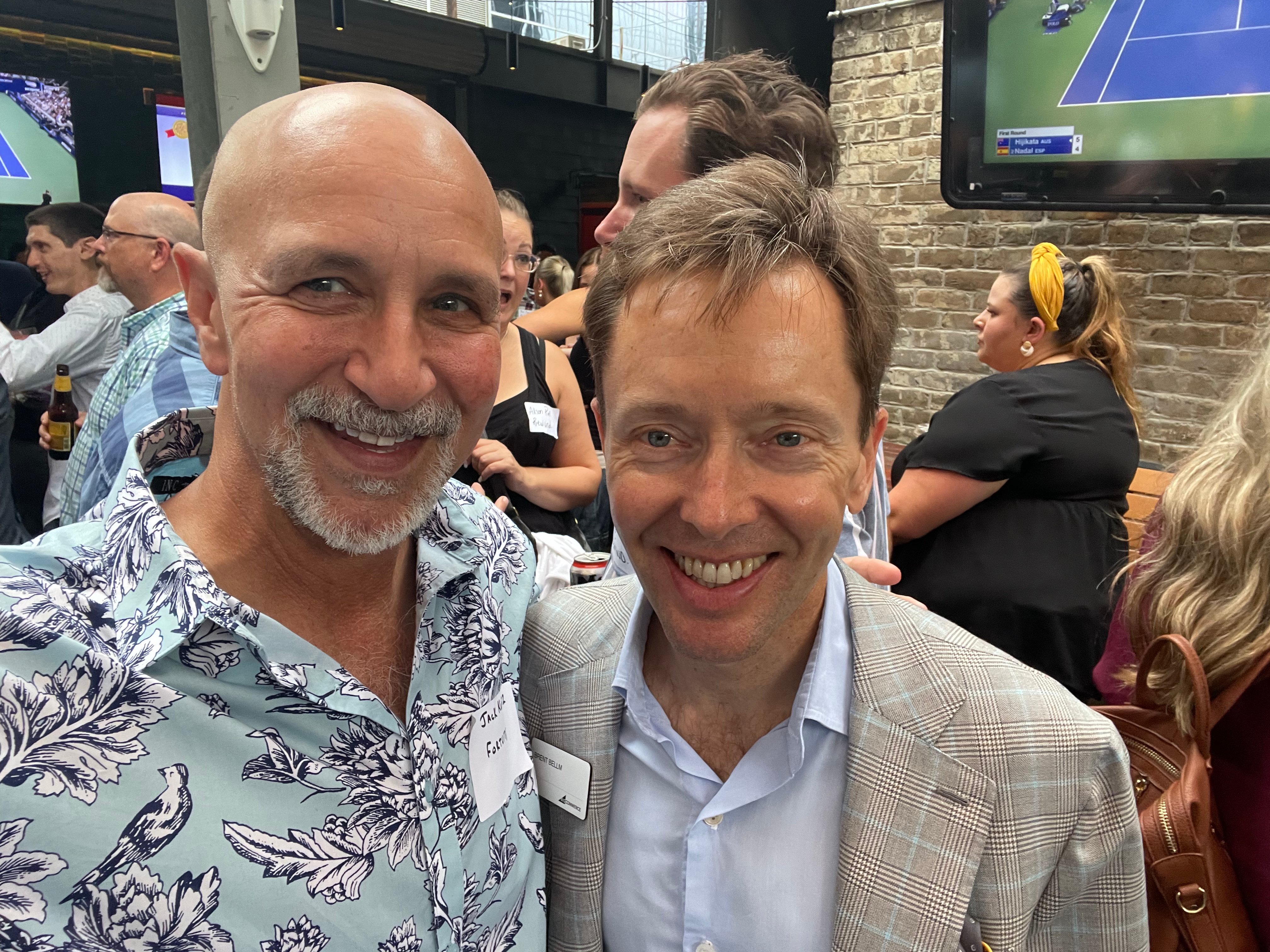 Jack Kurtz and Brent Bellm
B2B
Fortuitas has been offering BigCommerce B2B solutions for several years now. Interestingly enough, Brent said that BigCommerce B2B sales grew 32% year over year. This is attributed to BigCommerce launching their B2B Edition of the software and their acquisition of BundleB2B and B2B Ninja.
Headless Commerce
If you've heard the term Headless Commerce and have no idea what it means, it's an architecture where the front-end of your eCommerce site is decoupled from the back-end commerce system. This allows the user interface to be updated separately without interfering with the back-end. In fact, with Headless Commerce your front-end and back-end use completely separate technology.
Brent pointed out a statistic that Wordpress still powers over 42% of the internet. So, what if a merchant using WordPress wanted a powerful commerce solution while staying on WordPress? Brent shared that 25% of all small business BigCommerce stores are headless and use Wordpress for their front-end.
Also worth noting: BigCommerce's headless commerce sales experienced 34% growth last year.
Omnichannel
I've spoken and written about Omnichannel so many times now, but I appreciated Brent's explanation of Omnichannel. He said that Omnichannel is anytime you link your website into a marketplace, online advertising or offline sales channel.
This year, BigCommerce acquired Feedonomics, which touts itself as the "best-in-class technology and service to list products everywhere people shop online, including Google Shopping, Amazon, and Facebook."
"Our vision is to be the world's best platform for omnichannel commerce", said Brent.
Later in the summit, Fortuitas and a list of other agencies were proudly recognized as being among the first BigCommerce Omnichannel Certified Agencies.
International Expansion
BigCommerce expanded into France, Italy and Netherlands last year. This year BigCommerce is further expanding into Spain, Germany and Mexico with plans to add Columbia and Chile by the end of the year.
Next year BigCommerce will set their sites on Asia and possibly Africa.
Final Thoughts
BigCommerce has really grown these past couple of years, and Fortuitas has proudly been a BigCommerce Agency Partner since 2017. We have come a long way since we released our whitepaper comparing BigCommerce to other leading eCommerce platforms. Brent Bellm and the entire team at BigCommerce truly demonstrated last week that BigCommerce has a tremendous future, and so many technology partners and agencies who attended the summit were excited to be part of this ecosystem.